"...whatever comes second, i'll be there with my weapon."
tonight i just happened to be armed with a terrible hunger for some barbecue.
so like i said earlier, we had plans to go to "
willie's taste of soul bar-b-que
" tonight. here's how it jumped off:
i'm running a little behind so i just head straight there from work. i roll up on my bike and there are 3 squad cars parked on the sidewalk in front of the place. cops are milling around some perp telling him he's gonna go to jail.
i think, "this is going to be awesome."
i lock up and walk in. i'm a little disappointed because the place is very clean and well lit and smells faintly of floor cleaner. i had fully expected grimy wooden tables and metal-framed chairs with torn vinyl upholstery in a dimly lit, woodsmoke-filled dining area but sadly(?) this isn't the case.
emily shows up with the rest of the crew. we sit down.
our server seems skeptical about our group because while we order more than half of us (myself not included) are inquiring as to exactly how hot "hot" is at their establishment. server gives us a look that i take to mean that she thinks we are clearly a bunch of punk-ass bitches.
food comes.
i am wrecking the shit out of my helping of potato salad. i similarly decimate the remainder of lynsey's and emily's potato salad. i normally do not like potato salad so this comes as a pleasant surprise to me. the potatoes are well cooked. there are small chunks of orange bell pepper throughout and i believe they use a generous amount of yellow mustard in the recipe but i could be wrong. again, i am hardly ever (read: almost never) impressed with potato salad but this place definitely knows how to do it up right.
i move on to the mac and cheese. i am hearing universal praise around the table for the mac as i dig in but i am ambivalent about it. i have had more than my fair share of macaroni and cheese around this city and i can think of at least 6 places that do it better. not to say that that willie's has bad mac and cheese but i wouldn't go in there before a picnic or whatever and order an extra large portion to go (like i would with the potato salad). whatever, the mac is average. i move on.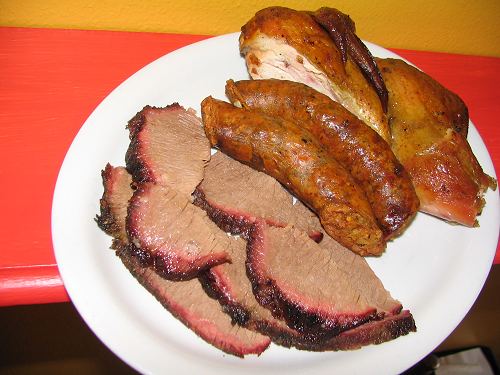 i snag a bite of chicken. the sauce takes me by surprise. it is the dry kind of spicy, not the kind that drowns your mouth in heat and makes you sweat but it is definitely very peppery. there is a sweet note at the end and is not as thick as i thought it would be. the chicken itself is very tender and moist. there is a visible smoke ring in the meat. my biggest complaint is that there is not enough of the chicken--it is a full order of chicken and i expected there to be more for the price.
the hot links that came with the order are something i've been anticipating since i first looked at the menu. they are not quite what i expected. it seems to be an andouille-type sausage that has been cut into small pieces. it does not appear to be very fatty; the meat is a bit drier than i thought it would be. it is heavily spiced with something i am unable to identify but the flavor is enjoyable. emily finds them to be too heavily spiced and loses interest. good. more for me.
the cornbread muffins are moist and crumbly. willie's incorporates red bell pepper into the batter which i am unable to detect with just my tastebuds. they are crusty on the outside. they don't hold up too well to my attempts to sop up some barbecue sauce so i decide to finally holler at the brisket and stack some on top of a corn muffin. it is the fucking bomb so i decide it's time to go one-on-one with the brisket.
first brisket-only bite and am fucking blown away. it is by far the best thing on the table. it comes apart with next to no effort and is not stringy at all. it's tender and very juicy. the sauce is a wonderful compliment to the meat. it's perfect. it's the best brisket i can recall eating to date and seals my decision to go to willie's again in the future. if a person or place can barbecue some meat better than
my brother
can then a) maybe there's a problem and b) i am automatically sold.
overall willie's is good. there are a lot of things on the menu that i didn't try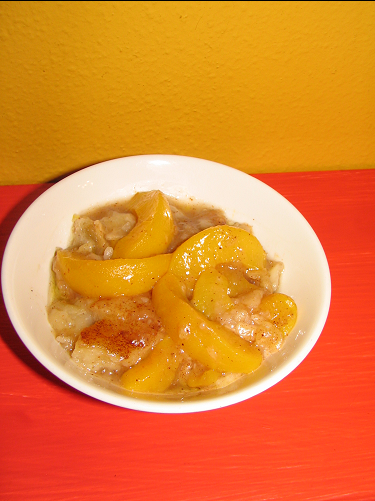 (collard greens, baby back ribs, coconut cake, peach cobbler) and i will have to cop that shit next time i go. they lose a few points for not having beer on tap--beer is only sold by the bottle there--but at least they have red stripe and sierra nevada. i also should say here that if you ever go there you better bring an appetite because the amount of food you get is kind of ridic. everyone was stuffed to the point of food coma, which sounds kinda whatever but the combo we picked "feeds 4" and there were 5 of us. i straight up embarassed so much food tonight too and if you know me then you know i can put food away like it's my job.
and yeah I KNOW this isn't
a proper flog
post without actual food porn so don't sweat me. for some reason NO ONE remembered to bring a camera so you're just gonna have to let my way with words play nice with your imagination for now.
see you next time.