ALRIGHT SO CHECK THIS OUT
i've got an idea for my first screenplay.
we were talking about actor duos unlikely to appear onscreen together and someone said that daniel craig and jason statham will never be in a movie because they're too similar but think about this movie idea.
it stars daniel craig...and jason statham
in
TANGO AND CASH
think about it. you wouldn't really have to change the plot much; just set it in the UK and you're golden. 2 top chief inspectors on the city of london police force can't stand each other, but they've both been set up and have to work together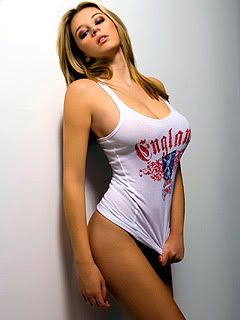 to clear their name as well as exact justice on the crime syndicate that's framed them for murder. 
daniel craig (AKA james bond #5, duh) would be perfect as the slick, refined-yet-badass ray tango. and naturally the reckless, rough-and-tumble gabriel cash would be played by jason statham (AKA mr. fuck-a-woman-in-the-middle-of-a-huge-crowd-in-chinatown-because-i-need-adrenaline-to-stay-alive). dudes wouldn't even really need to get into character; they could just reprise their roles from casino royale/quantum of solace and crank/transporter 1/2/3, respectively.
cast
keeley hazell
 as katherine "kiki" tango--teri hatcher's former role--and you've got yourself a real winner.
check out my re-imagning of
this scene
:
COP 1:
we've checked the whole lorry, arsehole--there's nothin in it! and you're out of your neighborhood, big city chap! i want your badge, i want your weapon, i want your ARSE! who the fuck do you think you are???
COP 2: 
[scoffs] 'e thinks 'e's james bond.
TANGO:
james bond...is a pussy. 
[tango shoots tanker truck, cocaine pours out the side]




TANGO:
whattya know. it's snowing.
[tastes cocaine]





TANGO:
anyone wanna get high?

END FUCKING SCENE.
man i swear. if they can make a reboot of the fast and the furious then they can sure as HELL reboot tango and cash. 
anyway. you heard it here first.